ASD Dogs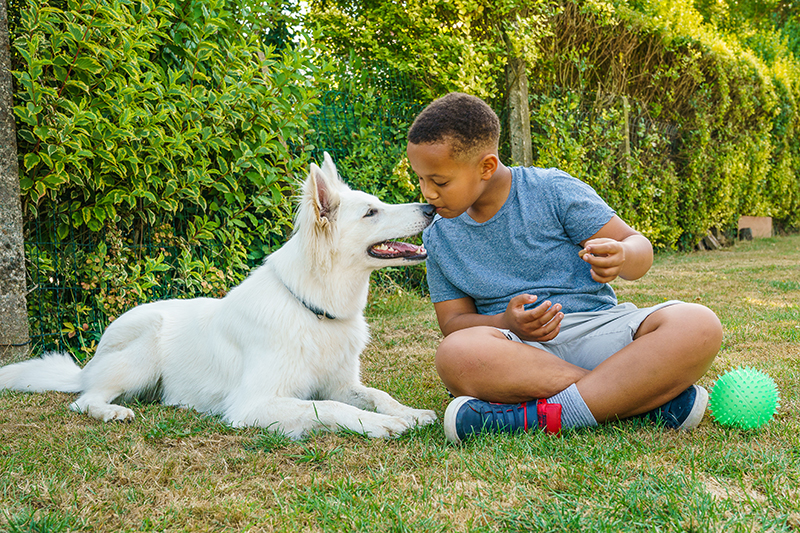 For candidates with an autism spectrum disorder Scale Dogs offers three possibilities:
The Autism Dog
The autism dog is a dog that is trained to be an assistance dog. This means that he can accompany the child both in public places and within the home environment. Scale Dogs trains autism dogs for children who, at the moment of the application, are between 4 and 14 year old.

The autism dog helps children with ASD to develop their potential and achieve as much independence as possible.

The autism dog gives the parents and the child greater independence and creates a safe environment for the child so that they can feel more comfortable.

A fully trained autism dog helps with:
Introducing daily routines
Reducing bolting behaviour
Help the child with unknown situations and environments
Reducing stress and anxiety
Improving sleep
Quitting repetitive behaviour
…
Given that the autism dog has access to public places, the family can do things that were previously impossible (grocery shopping, going on holiday, …).

After basic training, the autism dog is placed with the candidate. The final training is organized with the family so we can finetune to the specific needs of the child
The Buddy Dog
The buddy dog is not an 'assistance dog' and therefore doesn't have access to all public places. These arre however also dogs with good basic education and training.

The buddy dog mainly provides support, companionship, structure, trust and enjoyment within the home environment.
PAWS Workshop
Next to the fact that some children need a fully trained assistance dog, many families with a child who has autism can be helped faster and benefit from a well-trained family dog.

With the PAWS workshops we want to offer parents practical help and information. The goal of the program is to give them the knowledge and support needed to find a suitable dog for their family and / or to teach their own dog skills that are useful to their child.