The Puppy with the Puppy Walker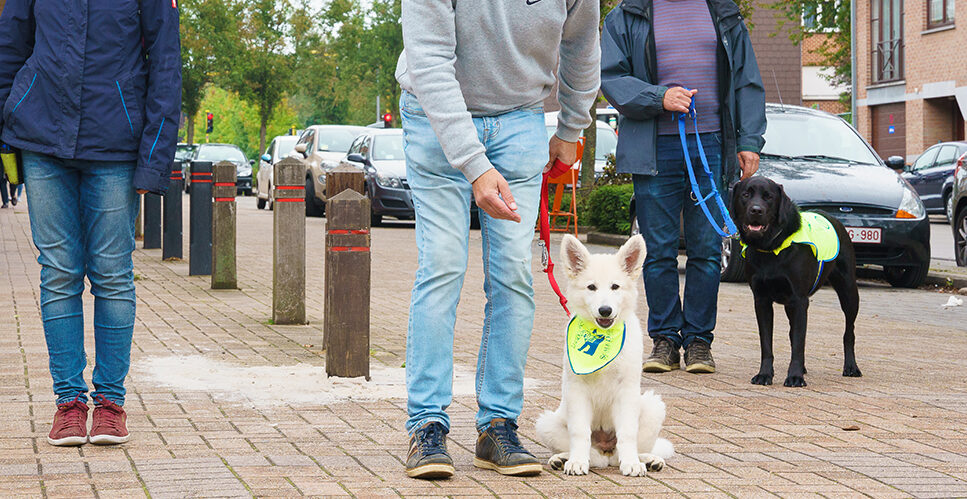 When the puppies are around eight weeks old, they are placed with a puppy walker. During their stay with the puppy walker and under the supervision of Scale Dogs, they will learn to deal with all facets of life. They have to discover everything: the city, a funfair, fireworks, public transport, car traffic … The young dogs must feel completely at ease and confident in as many different situations as possible. The role of our host families cannot be underestimated. They lay, so to speak, the foundation of the education and training of our future guide dogs.

The puppy walker ensures that the pup grows up to be a stable, obedient, and happy dog during the first year of its life; the indispensable basis for becoming a reliable, balanced guide dog later. The work that our host families do voluntarily is worth so much, we can never thank them enough for their efforts and their time.
Can I Become a Puppy Walker?
To be eligible as a puppy walker, a certain commitment is needed:
You are prepared to raise the puppy according to the instructions of the Scale Dogs trainers.
You take the puppy with you wherever possible (public transport, shops, restaurants, markets, stations, etc.) and you allow enough time for him to play, walk …
You should have a car to get to the different meeting places for the puppy classes (some places can't be reached by public transport, like our center for example). Please note that rental cars or carsharing (e.g. Cambio) do not accept dogs.
You make time for the visits of our instructors, for attending the puppy classes (3 to 4 times a month), and for the visits to the veterinarians associated with our center.
The minimum age for children in the family is 5 years.
You care and raise the puppy as a volunteer. Costs for food and veterinary are taken care of by Scale Dogs.
Other pets in the family are not an issue. Another dog is also not an issue provided that it has a good character and has been properly raised. We do, however, ask the puppy to have its own sleeping place where the other dog is not present. You also have to make enough time to go out with the puppy alone.
Knowledge about dogs or experience with dogs is not required, the instructors of Scale Dogs are there to help you. What is important is love for dogs, common sense and motivation.
I Want to Become a Puppy Walker
Are you interested in becoming a puppy walker for a future guide dog, do you have the time and space to take a puppy into your home and do you want to help us lay the foundation for a good guide dog? Do not hesitate to complete the online form! We will then contact you to discuss your application and to get to know you and your family.
Temporary Puppy Walker
In addition to host families who want to raise one of our puppies, we are also always on the lookout for host families who want to do evening, weekend or holiday care. If you cannot commit yourself full time but still want to help us with one of our puppies / young dogs, please do not hesitate to complete the online form as well.